David Gerbi - Istituto Italiano di Cultura di San Francisco - 13 Ottobre 2013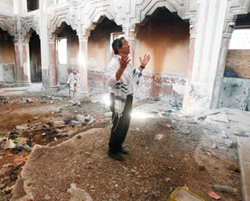 This performance by Dr David Gerbi, shown for the first time in the United States, will serve as an introduction to a deeper exploration of the psychological dimensions of culture, exile, immigration, and political context, presented by a panel of Jungian analysts and followed by a wine and cheese reception.
Dr Gerbi, a Jungian analyst himself, is a Libyan Jew who, at 12 years old, was forced into exile along with the rest of the Jewish community that had resided in Libya for 2000 years. During the revolution of 2011, he returned to Libya and took part in the provisional government, began restoration of the ancient synagogue, and assisted victims of psychological trauma.
1 - 5 PM: Performance and Panel; 5 - 5:30 PM: Reception.
Venue: The Jewish Community Center of San Francisco, Kanbar Hall, 3200 California St., San Francisco.
http://www.iicsanfrancisco.esteri.it/IIC_SanFrancisco/webform/SchedaEvento.aspx?id=828&citta=SanFrancisco